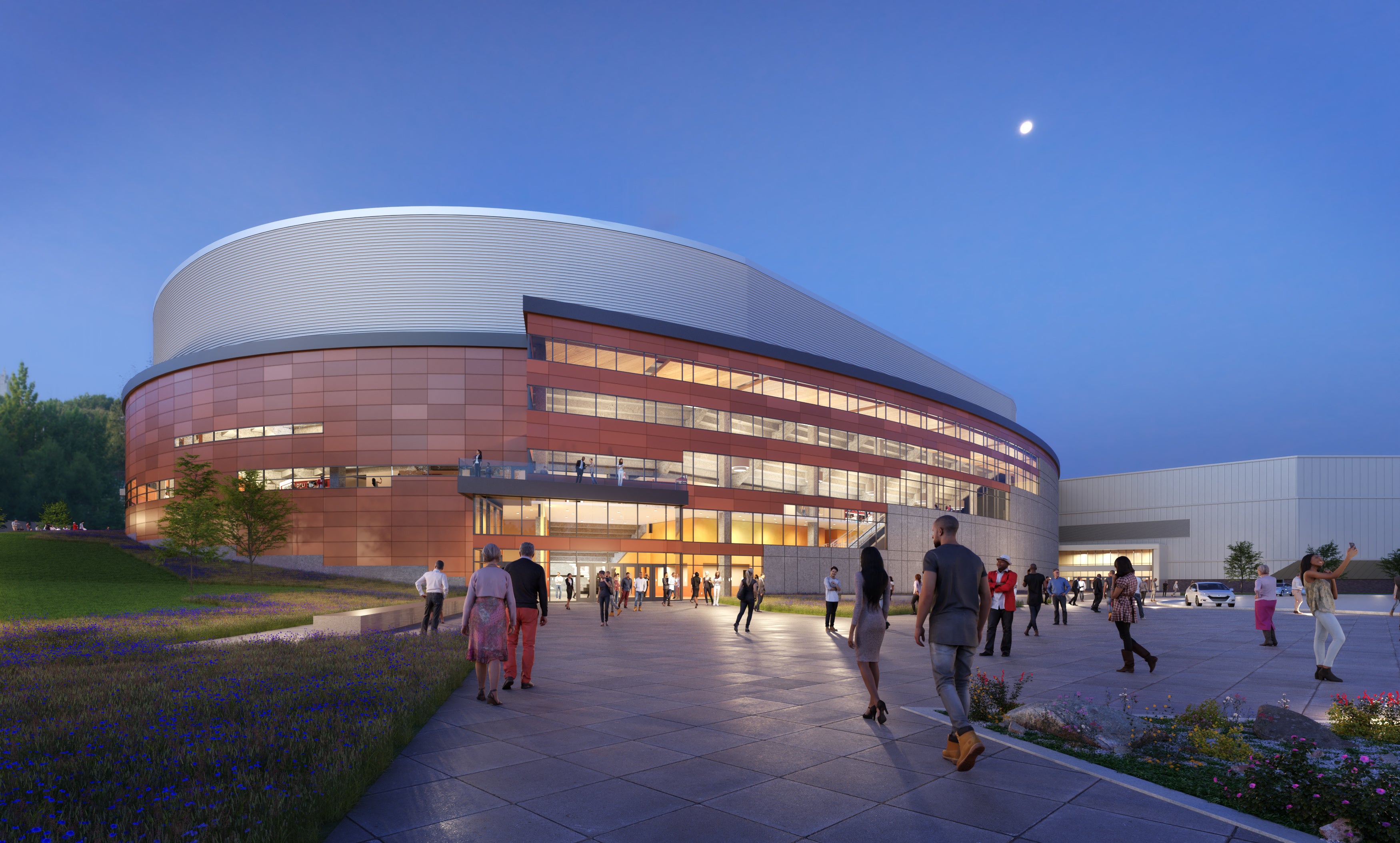 OFFICIALS RELEASE ARCHITECT'S RENDERING OF NEW ARENA FACILITY EXTERIOR
Friday | May 24, 2019
General Interior Features Outlined; Fall Groundbreaking Planned
(RAPID CITY, SD – May 24, 2019) – The design development phase of the Rushmore Plaza Civic Center Expansion Project has been completed and officials are providing a first look at the architectural rendering of the facility's exterior and providing information on specific features to the interior of the new Arena facility.
The exterior design for the new arena is inspired by the history and natural environment of Rapid City and the surrounding Black Hills. Features include rich red and copper tone finishes, punctuated by nodes of glass to highlight activity within, creating an iconic architectural image that will anchor a new era for entertainment in Rapid City.
The nearly 250,000 square foot arena will be home to Rodeo Rapid City, Black Hills Powwow, Lakota Nation Invitation and countless other sports and entertainment events. Officials indicate the arena design features intimate seating with the majority of the seats located on the facility's south and west ends. Other features of the multi-purpose venue will include the flexibility to host end stage and center stage concerts, family shows, circuses, basketball and large-scale wrestling tournaments, as well as open-floor exhibitions. Both the upper and lower levels will load from one main concourse, creating a dynamic gathering area for event goers. The design caters to the next generation of fans, featuring open and transparent concourses, additional social spaces within view of the action, and a variety of experiential and premium seating options. Additional operational efficiencies include vastly improved load-in/load-out capabilities that will allow the facility to accommodate a wider variety of concerts and shows.
Rushmore Plaza Civic Center officials have worked closely with the project's architectural firms, Perkins and Will and JLG Architects to create and approve design and development concepts while remaining committed to the $130 million project budget. Mortenson Construction and Scull Construction will begin work on the project, which is located on the west side of the existing Rushmore Plaza Civic Center, this fall.
"We're just months away from seeing big changes at the Civic Center," said Executive Director Craig Baltzer. "These plans reflect the commitment of the city officials and the generosity of the citizens of Rapid City to build a modern sports and entertainment destination in the heart of downtown. This new arena will represent our city and region in a way that we have not seen in a number of years and people will be amazed at how well this new venue enhances the experience for all our guests."
Officials anticipate an official groundbreaking for the new arena around November 1 with facility completion scheduled for Fall of 2021.