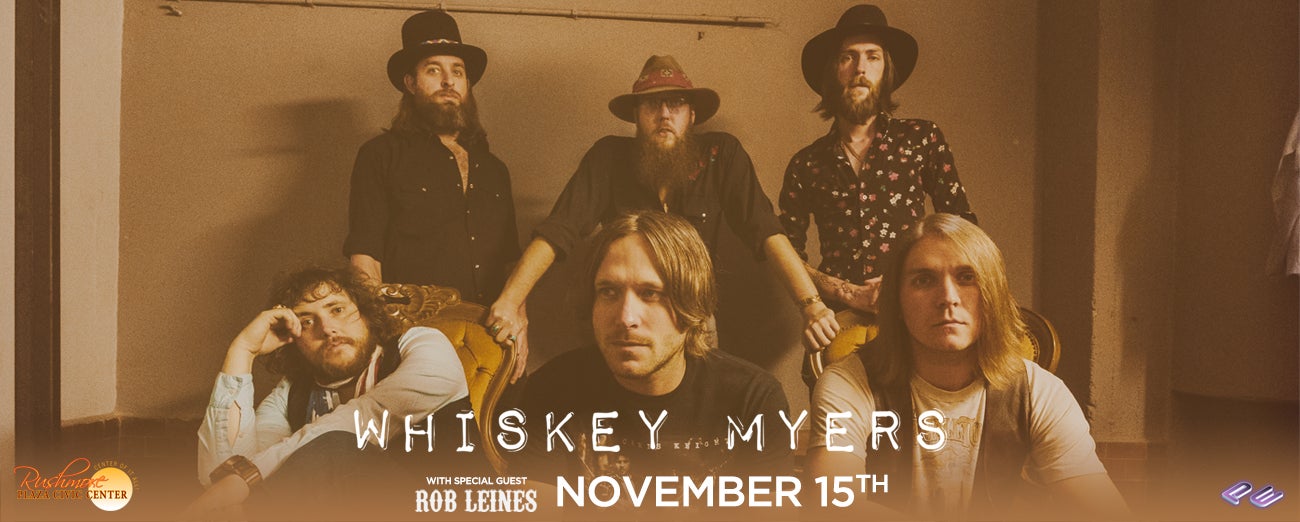 Whiskey Myers to Play Rushmore Plaza Civic Center
Monday | Aug. 19, 2019
With special guest, Rob Leines
Rapid City, SD – Whiskey Myers is coming to Rapid City, SD at the Rushmore Plaza Theatre on Friday, November 15th, 2019. Tickets start at $29.50 and go on-sale Friday, August 23rd at 10AM.
Whiskey Myers "You can tell when somebody is faking it," says Cody Cannon, lead singer and guitarist of Whiskey Myers, "and you can tell when it's real." This kick-ass band has been steadily building a devoted following with its gritty authenticity, and with their self-titled fifth album, they're poised to explode.
Each one of the releases from Whiskey Myers has been bigger and bigger — following their break-out third album, 2014's Early Morning Shakes, their most recent record, Mud, climbed to No. 4 on Billboard's country charts in 2016. And that was before the group was featured in Kevin Costner's TV series Yellowstone in 2018 (not just on the soundtrack, but on screen, performing in a bar), which propelled the band's entire catalogue into the Top 10 of the iTunes country chart.
But playing to larger and wilder crowds — including audiences of more than 100,000 at the Download Festivals in London and Paris — didn't cause Whiskey Myers to change their approach this time around. "We just bring our songs to the table and make it sound like us," says Cannon. "We never think about it. We just try to go in and write a good song, whether it's country or rock and roll or blues." "There's never a plan or the sense that we need to make a song sound a certain way," adds guitarist John Jeffers. "A country song could end up a rocker or the other way around — it's extremely organic, and that's always been us as a band."
The big change for Whiskey Myers was the decision by the group (which also includes Cody Tate on guitar, Jeff Hogg on drums, bassist Jamey Gleaves and Tony Kent playing keyboards and percussion) to produce the album themselves. GRAMMY winner Dave Cobb (Chris Stapleton, Jason Isbell, Brandi Carlile, Sturgill Simpson) helmed the band's last two albums, but this time around, they felt ready to take the wheel. "We loved a lot of things about our producers," says Jeffers, "but it was time to be set free and do it ourselves — to take what we learned from them and put it all together, figure it out. I think it just made it more authentically us." "We didn't know what to expect being on both sides of the glass, but we loved it," says Cannon. "Everybody got along, and we really incorporated everybody's ideas."
The band draws as much inspiration from Nirvana as from Waylon Jennings, and Whiskey Myers bursts out of the gate with the raging "Die Rockin'," followed by such bruisers as "Rolling Stone" and "Gasoline." Over the course of fourteen tracks, though, songs expand, moods change and songs like "Bury My Bones" and "California to Carolina" explore different stories and emotions.
For this band of renegade brothers, the goal isn't to fit into a format or try a new direction for its own sake, it's to be true to the music they love — and with Whiskey Myers they continue pushing in all directions and sharpening their attack, whether country, rock, blues, whatever — even adding the legendary McCrary Sisters' gospel influence to the project on background vocals. "Everybody wants you to pick a genre, but we did this our whole career," says Cody Cannon. "We like it all, so we're gonna do it all. We're better than we were at 20 years old — you try to hone your skills and get better, write better, play better. This is just how it came naturally, and it works better that way."
About Pepper Entertainment
Pepper Entertainment Established in July of 2006, Pepper (PE) is based in Sioux Falls, SD. As one of the fastest scaling, independent promotions company in the Midwest, PE, collectively, exceeds 25 years of experience spanning a broad scope of industry specialties, such as; Live Promotions, Corporate & Private Event Talent Buying, Club & Performing Art Center Programming & Media & Marketing Services. PE recently launched a Digital Media Firm that will specialize its craft around Web Platform Development & Hosting, Digital and Social Media Marketing, Brand Design & Management.
Tickets available at Rushmore Civic Center Box Office, gotmine.com, Ellsworth Air Force Base Outdoor Recreation and by phone at 1-800-GOT-MINE
For more information about the Rushmore Plaza Civic Center, visit: www.gotmine.com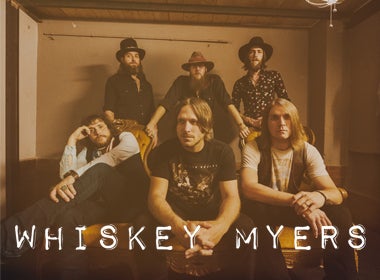 Friday | Nov. 15th , 2019
Presented by Pepper Entertainment